Hope all of your christmases were very merry, by the way :)
I just went to see Nowhere Boy.
I think Aaron Johnson had a tough job.
He's only been seen in Angus Thongs and Perfect Snogging - I mean, he's not exactly considered a serious actor, as of yet. And I feel sorry for actors like him whose big break is in a tweenager-aimed chick flick, so whose only fan base consists of 10-14 year old girls, who comment on the trailer for a biopic about the childhood of the genius that is John Lennon by saying something like:
' OMGGGGG I AM SOO EXCITED FOR THIS FILM, AARON JOHNSON IS SOOOOO FIT!!! <3>
gah...! But equally I think it is unfair for people to say 'I can't believe that twat from angus thongs and perfect snogging is going to play Lennon,' 'he's shit' etc, without giving him a fair chance to actually prove himself.
I think he did a damn good job... It's not an easy part, especially in an accent which isn't your own.
That kid from Love Actually was good too, nice to see him actually able to take on a role of anything other than an intelligent yet precocious little boy, and he managed it really well.
Mention definitely has to go to Anne-Marie Duff and Kristin Scott Thomas, who play Lennon's mother Julia and aunt Mimi. If you know the story of Lennon's childhood you'll understand that they are central to his life and the conflicts therein. Both of these are obviously experienced actresses, and they're excellent in this...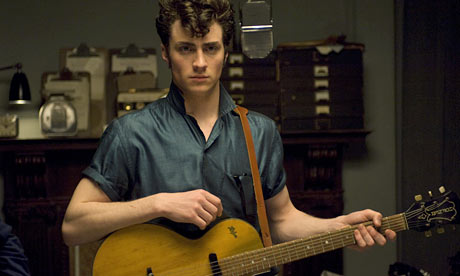 And, uh, let's be honest. He is a good looking bloke.
No wonder Sam Taylor Wood, Nowhere Boy's director and 23 years his senior, snapped him up... hmm!